by Herschel Specter, September 2020
Achieving the CLCPA carbon emissions reduction targets and combating climate change requires an "all-hands-on-deck" approach. The reality of this is magnified in New York City where in-City fossil generation currently provides 50-60 percent of the City's annual electricity, and 85-90 percent of City electricity is expected to be fossil fuel generated once Indian Point closes. – New York City's filing in DPS Clean Energy Standard (Case 15-E-0302)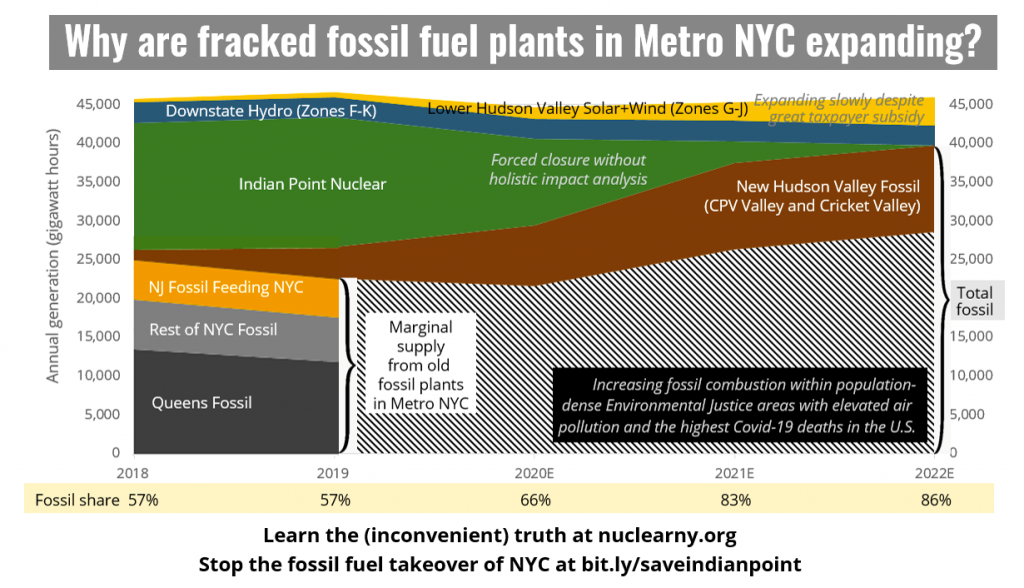 Crowds gather to protest the new Danskammer gas plant at Newburgh. New Yorkers fill the hallways of the Public Service Commission (PSC) to oppose large rate hikes to pay for new gas infrastructure. Analyses, apparently ignored, show that methane leakage from NY's proposed gas pipelines and compressors would undermine New York's clean energy mandates. Are these protests all in vain? The CPV gas plant in Orange County operates without being fully permitted. Meanwhile, New York claims to be a leader in dealing with climate change and plans to build a 9,000 megawatt, the world's largest, off-shore wind farm. Does the left hand know what the right hand is doing? 
Sadly, New York State has always favored gas over renewables. During 2000 to 2019 the added capacity of gas installations outstripped new renewable energy installations by about 270 percent. Electricity from gas power plants continue to far outpace  electricity from wind farms and solar panels. In 2019, in the NYC metropolitan area, gas produced 22,500 gigawatt-hours (GWh) of electricity; solar only 300 GWh. A 22,200 GWh difference. Despite an expected doubling of solar generation by 2022, the need for fossil generation in metro NYC will grow to 28,400 GWh, the result of shutting down the carbon-free Indian Point nuclear plant. Not only is gas significantly outproducing renewables, the difference gets larger each year. When Indian Point 2 was closed this year and replaced by gas, the release of  additional greenhouse gases (GHG) wiped out the ongoing environmental gains achieved by wind and solar energy statewide. It will be worse when Indian Point 3 closes next April. Much of the replacement electricity may come from dirty peaker plants, which would be particularly harmful if extreme weather forces these dirty old plants to burn oil.  The PSC is preparing  for this. Instead of the reliable carbon-free electricity from the Indian Point plants that got us through the previous polar vortex, the PSC is planning for greater use of oil in peaker plants. Many of these peaker plants are located in Environmental Justice areas. 
It's worse than NY canceling its 9,000 megawatt off-shore wind project. It would take until 2040, at the earliest, for these wind facilities to cumulatively match the release of millions of tons of GHG from gas plants that ramp up due to Indian Point's closure. A break-even date of 2040 is far too late to meet the State's 2050 clean energy goals. 
For decades New Yorkers have worked to reduce the GHG released from its electricity sector. In 2019 only 17% of NY's GHG came from this sector. This progress will end when gas plants take over. The environmental  community is pressing  for greater use of electricity by switching to electric vehicles and from replacing fossil fuels in space heating and in making hot water. These necessary actions are compromised when their sources of electricity become increasingly carbon intensive. 
Instead of having a well-thought through energy plan that would be implemented by the Climate Leadership and Community Protection Plan Act (CLCPA), citizens were told by a PSC representative that Indian Points 2 and 3 could be replaced by renewable energy and energy efficiency. This never could or did happen for Indian Point 2, with no further explanations or apologies offered by the PSC. Instead we are heading towards Indian Point 3 being replaced by gas next April and the PSC is still silent. 
When Governor Cuomo announced the closure of the two Indian Point nuclear plants in January, 2017, he made a commitment to the people of New York that Indian Point would be replaced by non-carbon sources. In over three years the PSC has failed to provide the Governor with a plan how to implement this.   
New York talks renewables, but does gas.